Valorant patch 5.03 notes: Chamber & Neon changes, Unreal Engine update & more
The Valorant update 5.03 patch notes are live now and there are a few notable changes in this update. Here are all the upcoming changes in the new patch.
Valorant update 5.03's patch notes feature a host of changes that will affect not only several Agents but also the visual aspects of Riot's FPS. Needless to say, players can also expect bug fixes to arrive as part of the update, too.
With the upcoming release of Agent 21, Riot appears to be preparing the game's current meta to welcome the new Agent into the roster. Keep reading for a detailed list of all the changes coming to Riot's tactical shooter in update 5.03.
Canada Has More Than 10 Lakh Job Vacancies in Multiple Fields
These are the highlights of Valorant update 5.03.
Valorant 5.03 patch notes
Valorant update 5.03 will see Agents Chamber, Neon, and Jett being tweaked to balance their performance in the game. It will be interesting to see how these's Agent changes affect the in-game meta.
Apart from that, the patch will also see Valorant being updated to Unreal Engine 4.26. While the developers have confirmed that this update is causing a few glitches in the main menu, they are dedicated to working out the bugs as soon as possible.
Here's a full rundown of everything that Riot Games has confirmed in Valorant update 5.03's official patch notes.
General Updates
Engine update to Unreal Engine 4.26

This update improves the toolset available to our developers in many ways, however, this change will likely go unnoticed by you, as the goal of any Engine update is to happen under the radar.
There are some known issues this time around though, mostly the UI is misbehaving. We're fixing these as quickly as we can, but expect some funkiness in the game and in the Main Menu. If anything interrupts your gameplay, please submit a bug report.

Agent Browser visual design refresh

Just thought we should leverage some of the cool Agent art and lean more into our VALORANT style.
Agent Updates
Chamber
Rendezvous (E)
Base Cooldown increased 20s >>> 30s
Recall Cooldown increased 20s >>> 30s
Cooldown set to 45s whenever a Rendezvous anchor is destroyed
The diameter size of the "ring" Chamber can stand that allows him to activate Rendezvous decreased 21m >>> 15m
Trademark (C)
Slow Duration decreased 9.5 >>> 6s
Tour De Force (X)
Subscribe to our newsletter for the latest updates on Esports, Gaming and more.EmailSign up
Ultimate Points Required increased 7 >>> 8
Slow Duration decreased 9.5 >>> 6s
Leg shot multiplier reduced 1.0 >>> 0.85
Headhunter (Q)
Bullet Cost increased 100 >>> 150
Neon
Overdrive
Damage per shot reduced 22 >>> 18
Killzone increased 15m >>> 20m
Leg shot multiplier reduced 1.0 >>> 0.85
Headshot multiplier increased 1 >>> 3
Jett
Bladestorm (X)
Leg shot multiplier reduced 1.0 >>> 0.85
Gameplay Systems Updates
Added ability to change the "Ghost" keybind outside of Custom Games

This option is listed under Settings >> Controls >> Actions
Bug fixes and Known Issues
Agents
Fixed an issue with Jett's Tailwind where switching weapons in the middle of the dash would cause the weapon pull-out animation to take longer than desired.
Gameplay Systems
Fixed a bug where some Reyna/Killjoy HUD elements were still visible after enabling Hide User Interface.
Fixed a bug where defuse animation wouldn't consistently play if the orb is tapped in rapid succession.
Known Issues
Changing crosshair opacity settings in-game causes the crosshair preview visual to flicker
Spike Announcements UI displaying incorrectly
Top 5 Most Followed Indian Instagram Handles List
Valorant Reaver 2.0 skin bundle: Variants, price, VFX, and more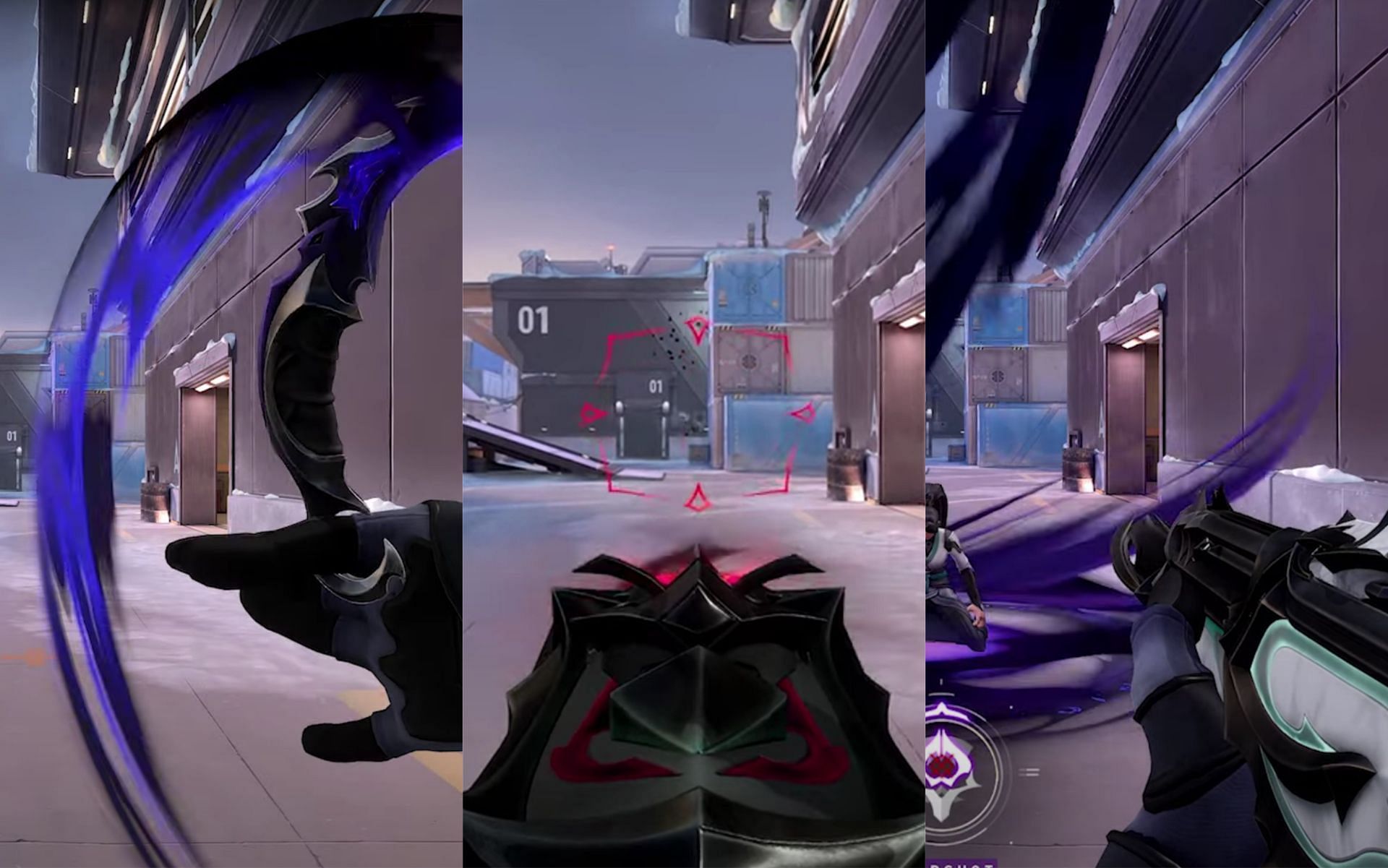 Valorant's patch 5.03, which is just a few hours away from release, will introduce a few notable changes. Following the patch, players can expect the appearance of a new skin bundle in the in-game store.
Several online sources have revealed the details for the upcoming skinline. After being judged as one of the best Valorant skin bundles of 2020, Reaver is back with its new iteration in the form of Reaver 2.0.
The weapons are based on the original skinline's design and have a predominant purple color for the default variant.
Aside from featuring weapon skins, Reaver 2.0 also introduces a brand new melee skin. The Reaver 2.0 skin collection features a Karambit knife as its melee weapon.
Valorant enthusiasts who were fans of the Champions 2021 Karambit but could not get their hands on it due to its steep price can now rejoice. The new Reaver 2.0 skin has the same inspect animation as that of the Champions 2021 Karambit. However, it looks much better than last year's weapon.
Everything to know about Valorant's upcoming Reaver 2.0 skin collection
Bundle details
Like most bundles in Valorant, the Reaver 2.0 skinline will feature skins for five weapons:
Reaver Ghost
Reaver Spectre
Reaver Odin
Reaver Phantom
Knife (Karambit)
The Reaver bundle comes replete with additional content, such as gun buddies, player cards and sprays, although the details are yet to be revealed.
Tier and cost
The original skinline was a premium bundle and Reaver 2.0 is set to follow in its footsteps. Expected to be classified under the Premium Edition skin tier, the bundle is expected to cost around 7,100 VP, with individual skins costing around 1,775 VP when purchased separately.
VR-based 'Squid Game' – Netflix announces new game
Features
The weapon skins have a dark aura around them, just like the original Reaver collection. The Karambit melee animation is especially cool as it is based on the Champions 2021 Karambit skin. The finishers for the weapons are the same as that of the original Reaver collection that took the enemy to the underworld.
The skin bundle features three color variants, namely red, white and black, other than the default purple color. Most other features fall in line with the original Reaver collection and are upgradeable. This will make the owners of the original bundle happy as they will soon be able to flaunt their entire Reaver collection.
Release date
Just like the other bundles, the new Reaver 2.0 skin bundle will be available in the in-game store a day after the patch is officially released. Valorant players can get their hands on the Reaver 2.0 bundle on the following dates:
August 10, 2:00 pm PDT
August 10, 11:00 pm CEST
August 11, 2:30 am IST
7 Healthy Habits To Sleep Better-proven tips
Best 8 Ways To Maximize Your Workout-Diet plan, nutrition tips and more