Ragna-Rock Out Buddy
Look Behind You Spray
UltraBright Torch Buddy
Yellows on Rails Player Card
Coalition: Cobra Frenzy
Paid Rewards
.SYS Vandal
.SYS Axe (melee)
Hue Shift Phantom
Hue Shift Shorty
Backseat Coaching Spray
Terrible Day for Rain Spray
Unstoppable // Phoenix Player Card
Deep Divisions Buddy
That's everything you needed to know about Valorant Episode 4 Act 3 Battle Pass.
Buy Top 3+ Loud and Clear Sound Tower Speakers in Best Prices 2022 Features
About new agent FADE (abilities explained)-
As we've mentioned, Fade has been categorized as an initiator. If you're new to Valorant, initiators should set their teams for success.
According to designer Nicholas Smith, Fade was conceived as a more close-ranged Sova Agent. "We wanted to keep the player close to the action and always in-body, So that meant no possible utility or different states of being (i.e., Drone/Wolf/Astral Form). Also wanted to have a recent character that was less reliant on line-ups."
Fade like others in her role will look to create advantages by taking space with ability usage, pushing enemies out of sites to force a retake.
Take a look at the full set of abilities down below:
Buy The 5 Best Featured Smartwatches in 2022- Affordable in Price with amazing features
Seize (Q)
Equip and Fire an Orb which will stay in the air for a max of 1.5s, and then slam to the ground. When the orb hits the ground Enemies within the radius will be tethered, and will take damage and be deafened.
Haunt (E)
Equip and Fire an Orb which will stay in the air and then hit the ground. Then it will go back into the air and turn into an eye. If Enemies get seen by the eye they will be revealed and a trail debuff is applied.
Prowler (C)
Send out a creature that can follow trails OR be controlled by moving your mouse. Upon reaching an enemy, they will be Nearsighted for 3s. Only 1 Creature per Trail.
NightFall (X)
Send out a wave of dark mist. If the mist hits an enemy, they will be Deafened, Trailed, and Decayed.
Valorant's RTX 11z Pro skin bundle
Valorant's RTX 11z Pro skin bundle soon gained popularity after its release last year in Patch 3.07, making them bring another set of them in Episode 4 Act 3.
The first version of the RTX 11z Pro skin bundle, released in October 2021, consisted of Vandal, Frenzy, Guardian, Stinger, and a Katana melee skin, bringing the new kill-tracker feature. However, this time, the Valorant developers are bringing the Butterfly melee to the skin line, consisting of both Phantom and Operator weapon skins.
Watch Marvel Studios Moon Knight (Season 1)
RGX 11z Pro 2 | #VALORANT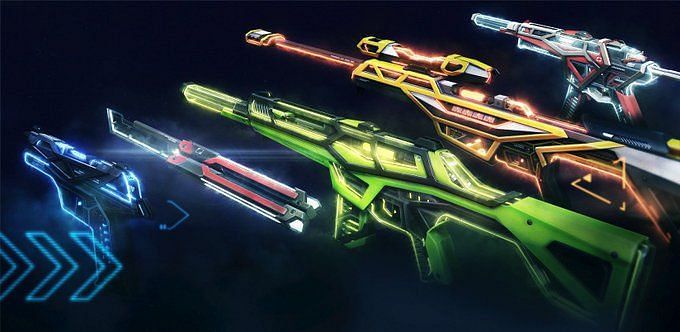 Everything to know about the new Valorant RGX 11z Pro Skin Bundle
Bundle details
The new RTX 11z Pro skin bundle will consist of five weapon skins. Below is the list of items for the new Valorant weapon skin line:
RGX 11z Pro Firefly (Melee)
RGX 11z Pro Phantom
RGX 11z Pro Classic
RGX 11z Pro Operator
RGX 11z Pro Spectre
The bundle will also contain a player card, spray, and a gun buddy, apart from weapon skins.
---
Release date
The RTX 11z Pro skin bundle will arrive on the day Episode 4 Act 3 releases. The new Act will arrive on April 27, 2022, with a new patch update. As soon as the new Patch 4.09 drops in the respective regions, players can download it and access the new skin line in the store, alongside the new Turkish initiator agent, Fade, and Battle pass.
The bundle will stay in the Valorant store until the developers bring another new weapon skin line into the game.
---
Price
The RTX 11z Pro skin falls under the Exclusive Edition (XE) skin tier, costing 8,700 Valorant Points (VP) in total. Players can get the VP in exchange for real-life currencies and later buy the skins from the store with them.
One can buy the entire skin bundle or buy the weapon skins individually as per their choice.
---
Levels and Variants
The Butterfly Knife is one of the main highlights of the new skin bundle, which has two levels. One can level up the melee with Radianite Points (RP) to experience equip and swipe animation with colorful VFX and effects. For Guns, the levels go up to five.
The second level only has the additional sound effects and international mechanism animation. One can level up to three to experience the audio and visual effects of firing, reloading, equipping, inspecting, and gun color changes. In the fourth level, players get the finisher and kill banner; in the fifth, they will get the match Kill Counter feature.
Both the melee and guns have three more variants – red, blue, and yellow. However, there are more additional colors to the LED lights and VFX in the case of guns.
Variant 1 (Red): LED light and VFX colors are white, red, purple, and yellow.
Variant 2 (Blue): LED light and VFX colors are blue, yellow, purple, and white.
Variant 3 (Yellow): LED light and VFX colors are yellow-orange, yellow, purple, and cyan teal.
SUGGESTED ARTICLES:-
Riot Games gives the first in-game look at Fade, VALORANT's terrifying new initiator
Your Complete Guide To Buy Top 5 Featured Air Conditioner(AC) 2022-Ultra Cooling