EURO CUP 2020 or UEFA European Football Championship is going to be the 16th UEFA European Championship. It is the international men's football championship of Europe and the Union of European Football Association (UEFA) organizing it.
After the FIFA world cup, it is the second most-watched football tournament in the world. Euro cup is founded in 1960 and by 1960 in every 4 years, this cup takes place, except for 2020( postponed due to COVID-19).
Also in 1968 its name was changed from European Nation's Cup to current.
In past, there have been 15 European championships which were won by 10 national teams. Germany and Spain (3-3 times each), France(2times), Soviet Union, Italy, Czechoslovakia, Netherlands, Denmark, Greece, and Portugal one time each. Also, Spain is the only team to won 2 consecutive titles, doing so in 2008 and 2012.
Final Tournament
Euro cup 2020 is going to be started on 11th June 2021. The opening match is between Turkey and Italy on 12th June 2021. Europe is gonna host this tournament with 11 venues in 11 cities in 11 different UEFA countries. The 11 different cities are Amsterdam, Baku, Bucharest, Budapest, Copenhagen, Glasgow, London, Munich, Rome, Saint Peterburg, Seville.
This is the first time in 60 years that EURO CUP is being held across the continent .The final and semi-finals are to be played in London ,England.
The EURO CUP 2020 was gonna be held from 12th June 2020 to 12th July 2020 but it has been postponed due to the COVID-19 outbreak in Europe and now it is taking place from 11th June 2021 to 11th July 2021.
The defending champions are Portugal who beat hosting country France by 1-0 in 2016 at Stade de France in Saint-Denis after extra time.
55 teams played qualifiers which were held from 21 March 2019-12 November 2020 and 24 teams qualified for the final tournament. The qualified teams are Belgium, Italy, Russia, Poland, Ukraine, Spain, France, Turkey, England, Czech Republic, Finland, Sweden, Croatia, Austria, Netherlands Germany, Portugal, Denmark, Wales, North Macedonia, Hungary, Slovakia, and Scotland.
How does the group stage look?
A Group: Turkey, Italy, Wales, Switzerland
B Group: Denmark, Finland, Belgium, Russia
C Group: Netherlands, Ukraine, Austria, North Macedonia
D Group: England, Croatia, Scotland, Czech Republic
E Group: Spain, Sweden, Poland, Slovakia
F Group: Hungary, Portugal, France, Germany.
In India, the live broadcast will be available on the Sony network. Check broadcast in your country click on the link
Stats of EUROPEAN QUALIFIERS
There was a total of 262 matches played in which 826 goals were scored at an average of 3.15 goals per match. The top scorer was Harry Kane with12 goals in 8 matches from England followed by Eran Zahavi from Israel and Cristiano Ronaldo from Portugal with 11 goals each.
For qualifiers 55 teams were drawn into 10 groups :-five groups of five teams (Groups A-E) and five groups of six teams (Group F-J).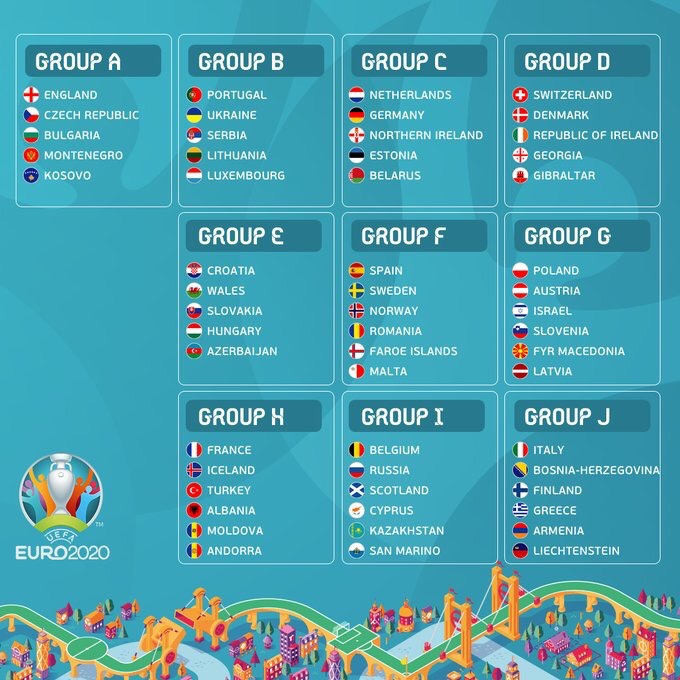 So ,be ready for nail-biting experience from the matches which are going to start from 12th.
DO YOU KNOW ABOUT : GULLY CRICKET ACTIONS